'ICCAS 2022' opens today at BEXCO, Busan
Page Info
Writer
NANOSYSTEMS
Hit
268EA
Date

22-12-14 08:47
Content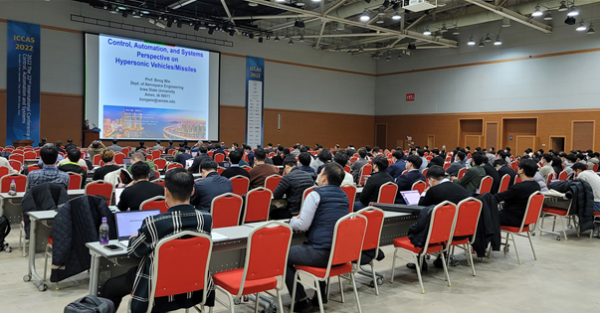 The International Conference on Control Automation Systems (ICCAS 2022), hosted by the Society for Control Robot Systems (Chairman Ko Kwang-il), will open at BEXCO in Busan on the 28th and be held for four days until December 1.
ICCAS 2022, which marks its 22nd anniversary this year, was held online and offline this year due to the influence of Corona, and 900 people, including 140 registrants from 25 countries, attended.
The opening ceremony, which was held earlier in the day, was attended by industry-academic officials, including Ko Kwang-il, chairman of the Control Robot Systems Association, Choi Jae-won, chairman of Busan National University, Park Bu-kyeon, Hanyang University professor Chung Jung-joo, Seoul National University professor Cho Dong-il, and Konkuk University professor Kang Chul-koo.
Chairman Ko Kwang-il said in a welcoming speech, "As the era of the fourth industrial revolution has recently progressed in earnest, the role of robot, control, and system engineers has become important."In that sense, the research results published by you here will have a great influence on the technological revolution," he said. Chairman Ko said, "I think this conference has been innovating so far and has kept its dynamic and authority," and added, "I hope this conference will continue to develop and contribute further to the development of human society."
As the first keynote speech after the opening ceremony, Professor Wi Bong of Iowa State University gave a lecture on "Control, Automation and Systems Perspective on Hypersonic Flight Vehicles/Missiles." Professor Wi gave a comprehensive overview of emerging technologies that focus on the control, automation and system aspects required for successful development of the current global hot issue, the Hypersonic Gliding Vehicle and the supersonic cruise missile system. He described hypersonic flight dynamics, fundamentals of guidance and control, recent advances in hypersonic flight/missiles, mathematical modeling of hypersonic flight/missiles for GN&C design, and described hypersonic reentry, entry and descent to Mars, and trajectory optimization.
In the afternoon, an industry invitation session was held with robot companies participating like last year.
The first industry guest lecture was presented by Huh Jung-woo, technical director of Rainbow Robotics, under the theme of "The Present and Future of Rainbow Robotics." Director Heo introduced the company and presented various business opportunities in the market related to the current flagship cooperative robot, and introduced that the scope of use of cooperative robots is expanding to non-face-to-face services and unmanned automation systems. It also explained the company's short-term, medium-term, and long-term plans to upgrade autonomous driving technology by explaining the creation of new markets in various fields such as traditional industrial use cases (welding robots), logistics business cases (post office), new service market cases (robot studio), and F&B service market cases (Samsung Raemian). Finally, regarding the quadrupedal walking robot, the company introduced the civil-military combined technology development project and introduced strategies for upgrading the core technology of quadrupedal walking robots.
The second invited lecture by the industry was given by the head of RS Automation Sanghoon Lee Research Institute under the theme of "High Performance but Easy to Use Servo Drive." Director Lee introduced various R&D activities performed by RS Automation to implement high-performance, easy-to-use servo drives aimed at being used in high-performance motion control applications, explaining the performance of control algorithms, developed hardware, and high-performance encoders. With the recent release of multi-axis servo, he said the issue of functional safety and cybersecurity applications has also become important, adding that he will expand this field in the future.
In the afternoon, the second keynote lecture was given by Professor Fint Eisen Rolf of the University of Magdeburg in Germany under the theme of Fusing Machine Learning and Predictive Control for the Safe and Optimal Operation of Autonomous Systems. "Many autonomous systems, such as robots, drones, or autonomous vehicles, must operate safely and optimally under uncertain conditions, but often the environmental model or system itself is unknown or only partially known, and uncertainty and disturbance exist," Pint Eisen said. "Learning allows us to coordinate measurements and data based, individualize control and planning tasks for individual tasks, and predictive controls leverage learned models, cost functions, references or disturbances to ensure safety and optimality," he said, explaining how to integrate system knowledge and attributes such as controllability and constraint satisfaction into learning.
Meanwhile, on the 29th, the second day of the event, ▲ Seoul National University professor Kim Yoon-young (Can we synchronize robot mechanism without any baseline design?) ▲ Swedish KTH Royal Institute Professor Henrik Sandberg's keynote speech and CEO Kim Kwang-jin's dinner will be held. On the 30th, ▲ Modeling ionic polymer metal composites (where we are and where we should be) ▲ Professor Hiroshi Fujimoto of Tokyo University (Advanced control of electric vehicles and development of wireless in-wheel motors) will be invited to give a lecture. In addition, various programs such as poster sessions, oral sessions, and technical tours are prepared, and this year's academic competition will end on December 1.