Nanosystems begins demonstration of flash-type 3D LiDAR urban railway.…
Page Info
Writer
NANOSYSTEMS
Hit
266EA
Date

22-12-14 08:47
Content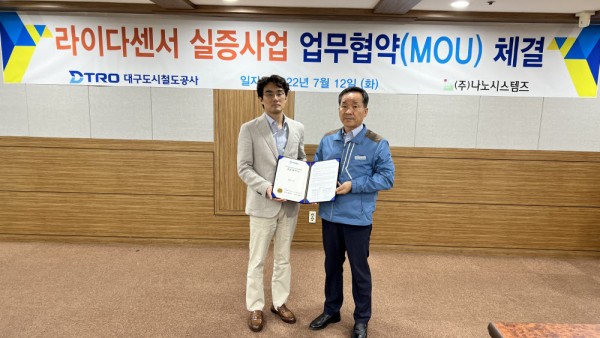 Nanosystems (CEO Ji Chang-hyun), a company specializing in LiDAR, announced on the 31st that it developed a flash-type 3D LiDAR for the first time in Korea and started demonstration for its first commercialization.
Lidar is a technology that precisely scans the surroundings by firing laser pulses and measuring the distance by receiving the light reflected from surrounding objects and returning it. It is widely used in autonomous vehicles, advanced driver assistance systems (ADAS), robots, drones, terrain observation, smart factories, and home appliances.
The flash-type 3D LIDAR (product name Roboscan: ROBOSCAN) developed by Nanosystems can implement high resolution because it transmits a laser beam with a wide viewing angle and measures the distance by receiving it with a multiple array receiver (FPA).
Nanosystems begins demonstration of flash-type 3D LiDAR urban railway... Focus on public sector in the second half of this year
It is resistant to vibration, shock, and external noise compared to the mirror-rotating laser scanner LIDAR adopted by existing competitors. Since it can be miniaturized and has high resolution, it is suitable for use as industrial safety sensors such as collaborative robots in manufacturing plants and robots for quarantine in public institutions. It also supports various applications.
Demonstration for commercialization is also in full swing. Nanosystems recently signed an agreement with the Daegu Metropolitan Rapid Transit Corporation to install Roboscan on the safety door of the Daegu Metropolitan Transit platform. A lidar sensor will be installed at Imdang Station on Daegu Metro Line 2 to transmit a signal when a passenger's body, belongings or obstacles are detected, and will be tested for three months. If the reliability of the product is verified through demonstration, it will be registered as a procurement innovation product and the product will be supplied to the Daegu Metropolitan Rapid Transit in earnest. Based on this, it will be expanded and supplied as sensors for detecting safety doors at all railroad and subway platforms nationwide.
Apart from this, Nanosystems will soon supply 1,000 units of its 3D lidar to a robot golf cart manufacturer, and is holding detailed discussions. It is also targeting the market.
Ji Chang-hyun, CEO of Nanosystems, said, "Currently, the global lidar market is mainly focused on the automotive sector, such as autonomous driving and ADAS, but the scope of application is greatly expanding throughout the industry. As Roboscan has strengths in industrial markets that require high resolution and miniaturization, such as manufacturing, safety, logistics, environment, and security, we will focus on business."